12 October, 2023
Become an international volunteer at SCI Germany!
ESC volunteering
Are you interested in office work and in Social Media?
Would you like to place the perfect volunteers in our international work camps?
Do you love taking on a new challenge?
Then you should apply now!
SCI Germany is looking for 2 volunteers for the period of 13 months: 1 March 2024 to 31 March 2025, to contribute to the work of their office in Bonn, Germany. Application deadline: 15th of November 2023
You are welcome to apply if you are a EU resident between 18 and 30 years of age and you have a good level of English.
About the hosting organisation
Service Civil International (SCI) is an international volunteer organisation with more than 100 partners all over the world. Its goals are to promote peace, international understanding and solidarity, social justice, sustainable development and respect for the environment. SCI believes that all people can live together in mutual respect and without the use of any form of violence to resolve conflicts.
In cooperation with social, ecological, cultural and anti-racist projects we organise about 40 international work camps in Germany every year. Such voluntary service is a unique form of engagement where people from different countries, cultures and backgrounds live together for two or three weeks to support a local project with their work.
In addition to our international work camps, we run a long-term volunteer program. Moreover, in collaboration with international partners, we organize training courses and seminars on topics such as peace work, anti-racism, gender and climate justice. For more information on the history, aims and international structures of SCI visit the website of SCI Germany www.sci-d.de or SCI International www.sciint.org or of the branch in your home country.
About the project
We would like you to get to know the work of the SCI in Germany and the exchange programme of an international volunteer organization. You will support various activities and projects, contribute with your own ideas and take on responsibility. You will work with the project coordinators for our international program.
Another goal of the project is to strengthen the cooperation between SCI Germany and your sending organization. Therefore, in your application, tell us what experiences you have already had, e.g. as a participant in work camps, in public relations, etc.
The project includes the following tasks:
Placement
You will place volunteers from abroad in work camps in Germany and vice versa. For placement, you will use our online portal, the Online Placement System (OPS), a database for all workcamps and applications.
Communication
You will have huge mail and telephone communication (most in English, partly in German). You will communicate with volunteers, with our international partners and with project coordinators. You will answer questions about work camps and help interested applicants with their applications. You will support us in creating information material for the participants.
Advertising/Social Media
You can support us publicise our projects on social networks and recruit participants for our work camps.
Supporting our workcamps
You will lead an international work camp in Germany after taking part in an appropriate training. You also have the opportunity to visit SCI work camps in Germany to introduce SCI and to see if the work camp is going well. We would be happy if you developed your own (online-) activities and we look forward to your "outside view" on our work.
Other possible tasks
Participation in activities of SCI, for example in our "Autumn Festival" (a large meeting of activists and volunteers that takes place once a year in autumn) in trainings or seminars, etc.
Participation in an international conference as part of the SCI network to evaluate and improve cooperation in the area of our work camps
Support in the planning, implementation and evaluation of projects or training on topics such as anti-racism, project management, ecology or gender.
We are offering two positions. The concrete division of tasks will be decided upon in consultation with the chosen candidates according to their respective interests and competences.
What we offer
free accommodation in a flat for volunteers (in the same house as SCI-office)
monthly food allowance of 320 Euro
monthly pocket money of 153 Euro
working hours are about 35 hours per week but some overtime may be necessary (free time will be given in lieu). It is necessary to be ready to work sometimes on weekends (workcamps, seminars etc.)
reimbursement of all expenses connected to work (like travelling to Germany, to workcamps seminars etc.) and visa costs
30 days of vacation per year
budget for language training
You will also participate in the online-language training of the European Commission for ESC volunteers.
Insurance through the group plan for ESC volunteers
What we expect from you
high motivation for volunteer and peace work
preferably experience in the field of workcamps and involvement in SCI or in another voluntary organisation
good knowledge of English and preferably at least basic knowledge of German
good communication skills
independent and self-organised working attitude; high degree of initiative; interest to bring in own ideas and work on them
experience in office work
experience in journalism, PR-work, Social Media or designing
Before the start of the project we encourage each accepted volunteer to participate in our international Placement Officer Training (POT), expected in February in Switzerland.
The project is open to everyone regardless of their gender, ethnic background, religious conviction or sexual orientation. Due to the circumstances of our office and the accommodation we unfortunately cannot host volunteers with physical (walking) impairment.
Conditions for applicants
The program is financially supported by the European Solidarity Fund (ESC). Due to the conditions of the funding you can apply,
if you are between 18 and 30 years old,
if you are citizen in a European country,
if you did not participate in ESC-programme before.
How to apply
Apply through your sending organisation and use SCI application form, please
We will arrange online meeting in English or German with the candidates.
From your sending organisation we ask for a recommendation letter.
Application deadline: 15th of November 2023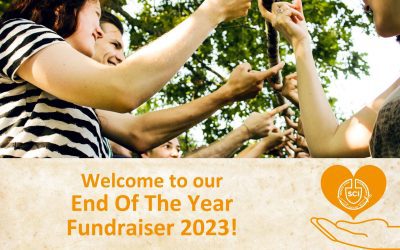 As we approach the end of this year, I would like to address all of you and ask for your support to SCI. The most reliable source and that which would give us the highest level of independence, is YOU!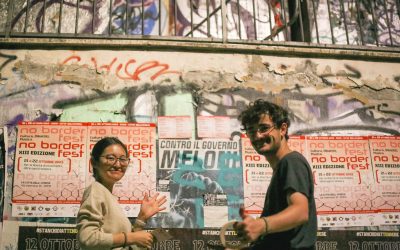 From 10th to 25th November 2023 and ahead of the 13th edition of the No Border Fest, 14 international volunteers arrived from Spain, Portugal, France, Albania, Croatia, Hungary, and Italy to Rome, to offer support, during the two weeks, 'tidying up the space of "La Città dell'Utopia"' leading up to the festival and also during the festival. About the festival The No Border Fest was back in its...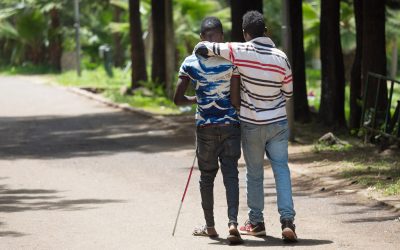 SCI-India's Maharashtra State Group organized a webinar to commemorate the World White Cane Safety Day. The Group has been associated with organizations working on issues faced by the visually impaired for over four decades. The aim of the seminar was to expose new volunteers to the world of the visually impaired, to the challenges they face in daily life and how the little but mighty cane helps...