27 May, 2020
First SCI Online Workcamp
"Sustainable Lifestyle in Lockdown"
SCI first online workcamp was named "Sustainable Lifestyle in Lockdown", it was implemented by SCI Germany and it took place from 4th to 11th of May, 2020.
During the workcamp 11 participants from 8 countries (Spain, Russia, Germany, Ukraine, India, Sri Lanka, Turkey and Italy) have been encouraged to create or keep a sustainable lifestyle, while being supported by an online community. Main topics were: waste management, recycling, food sharing, fast fashion, alternative approaches to the conscious and sustainable lifestyle.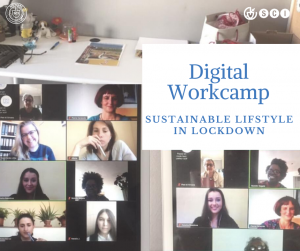 The participants were provided with creative and sustainable solutions for recycling, waste management, fast fashion, food sharing and alternative approaches to the avoidance of abundance of things. The facilitators encouraged them to implement the newly gained knowledge into their everyday life routines and disseminate the results among their communities.
Even though the workcamp took place online, it felt pretty close to a real workcamp. The participants were sewing, cooking, had "Do it yourself" challenges, e.g. produce their own sanitizers, lip balms or hair masks. They also had the opportunity to implement their own ideas during open space sessions, as e.g. organising a multicultural party. And as for every workcamp, there have been some tasks: Reporter, Photo Wizzard, Time Keeper, Good Mood Officer.
We are very happy, that the participants have been very active and enthusiastic about the Digital Workcamp! Some have already shared ideas for further cooperation with SCI, two girls will even visit us this week.
Feedback from participants:
Sunil (Sri Lanka): It was so wonderful experience for me to take part in the Digital workcamp. I was afraid how were you going to hold this kind of work as we used be familiar with virtual workcamps. I liked the topics that were very much related with Sustainable lifestyles. The facilitators were very kind and helpful all the time. Actually I learned much from it and was able to meet some new friends from around the world that have same feathers. I am very much looking forward to meet you all again with such a worthy workcamp. "Ayubowan". May you all live long.
Neeraj (India): The digital camp was quite informative, and multicultural. World came a bit closer in the week for me. Different aged and highly intellectual people shared their thoughts in numerous ways. A lot of things learnt in that week. A work camp could be such type and thus getting along with right people might lead us something more which would redefine our philosophy and our future altogether.
Silvana (Italy): The digital camp was a great experience. We got and shared many useful experiences and informations about sustainable lifestyle. Materials in the morning to work on and Zoom sessions in the afternoon to discuss. Many cultural inputs from participants living in different countries. Some fun every day through games and warm up activities. I learnt also to use new digital tools.
Jummy (LTV from Thailand, currently in Germany): This is my first workcamp participating through online media, zoom. It was new experience to learn things and know other participants. I really like the topic each day, e.g, zero waste, food waste, etc. I was enriched by the topics everyday and know how can I help the situation now by changing my behaviors. Besides the content, we have many activities to do together which pushing us closer. I would say that it was an amazing week for me 😉 thank you so much SCI and all facilitators.
Hoa (LTV from Vietnam, currently in Germany): I really enjoyed this work camp. I am really inspired by each and everyone of you and got a lot useful tips and information about sustainable lifestyle. The work camp week was a real highlight of my unorganized "quarantine" time.
Here you can also read a Voices of Volunteers article written by Albina, participant from Russia.
It was nice to spend such a fruitful week (8 days) in multicultural society with a purpose. Thanks a lot to all the participants!
You'd also like to take part in a Online Workcamp? Then follow us on Facebook and Instagram, so you don't miss the call!
Written by SCI Germany

IVP Australia, together with partner organisation, is organising the Raising Peace festival with the aims to celebrate and raise the profile of peace, to create opportunities for collaboration between peace organisations and to inspire young people to take action for peace. The festival will take place over 10 days: 16-26 September 2021 in Australia.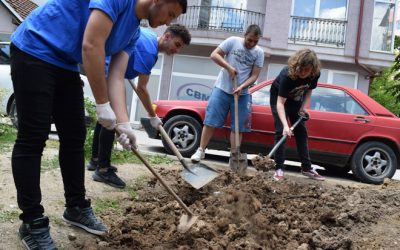 GAIA Kosovo's volunteers created a community garden in an urban space that was left unattended for a long time, bringing a new energy and bright natural colors to the whole area. The work on the garden generated interactions, conversations, new encounters and a lot of smiles between people from different generations, grandparents and young children, teenagers and adults.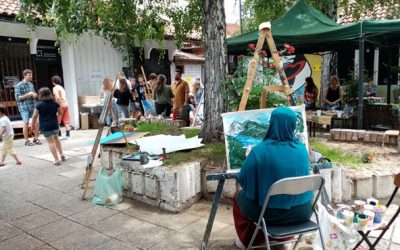 Volunteers at GAIA Kosovo organised a special Sunday fully dedicated to art, in the social and cultural place "Social Space for Deconstruction". When people live their day to day life in a divided city, they sometimes need to rethink about what we, as humans, have in common, and the universal language of art can help us do that.