6 October, 2022
Our new Office Volunteer, Noëlla, joined us in Antwerp!
Welcome to SCI!
Hello everyone,
I'm Noëlla, I'm 21 years old and I come from France. I'm a new office volunteer in SCI-IS for 3 weeks now. I work on statistics, on the preparation of our big event International Committee Meeting, on the fundraising and donor management and on some events on Gathertown.
I am an ambitious, motivated person, full of life and I love to live new adventures like this one. The city of Antwerp is really nice and I'm looking forward to discovering it throughout this year and to eat lots of Belgian fries and chocolates!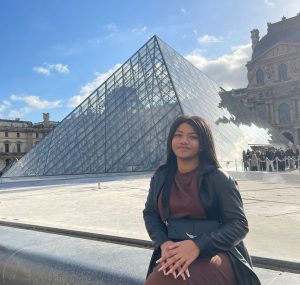 I am graduated in Political Sciences and European Affairs and before starting my master's degree I wanted to take a break, to live a unique and different experience, to give myself time for others, to acquire new knowledge and skills for my future and to improve my English also. So, I discovered the program of Service Civique, I really want to be involved in a cause and defend my values during my volunteering and it is like that that I discovered the Service Civil International. I didn't know anything about this organisation before but since I am here, I realised it is what I was looking for.
I fight for peace, diversity, and equality among people in the hope of living in a better world and at SCI – IS we work daily to make this a reality through the different projects that are organised with branches, partners, and contacts. It is a big community from all over the world working together for a common goal. What fascinates me is the willingness of everyone in their own way to change and improve our world.
I really hope that this year will be an eye-opener for me, that I will be able to learn a lot from the different people I will meet and work with, that I will be able to grow and prosper in my work at SCI-IS and bring my own personal touch to it. And above all, that I will be able to acquire all the necessary knowledge to one day realise my dream of creating my own NGO.
Looking forward to reading and meeting you,
Grisel Noëlla
Focused on the themes of peace and reconciliation, this fellowship has been sponsored by IVP co-founder, Chris Dunstan, in honour of his late mother, Barbara Dunstan
Tomorrow marks one year since the full-scale military aggression against Ukraine by Russia. We want to reiterate our message in support of peace, standing in solidarity with the people of Ukraine as well as peace movements and peace activists. No to war in Ukraine, no to war anywhere! We invite you to stand up against the war in Ukraine and encourage you to join your local peace protest or activity or to organise one yourself.
SCI India – Maharashtra State Group is organising an online discussion on the occasion of International Women's Day with the theme "Women's Empowerment". ? 8 March 2023 15:30 CET ? Zoom