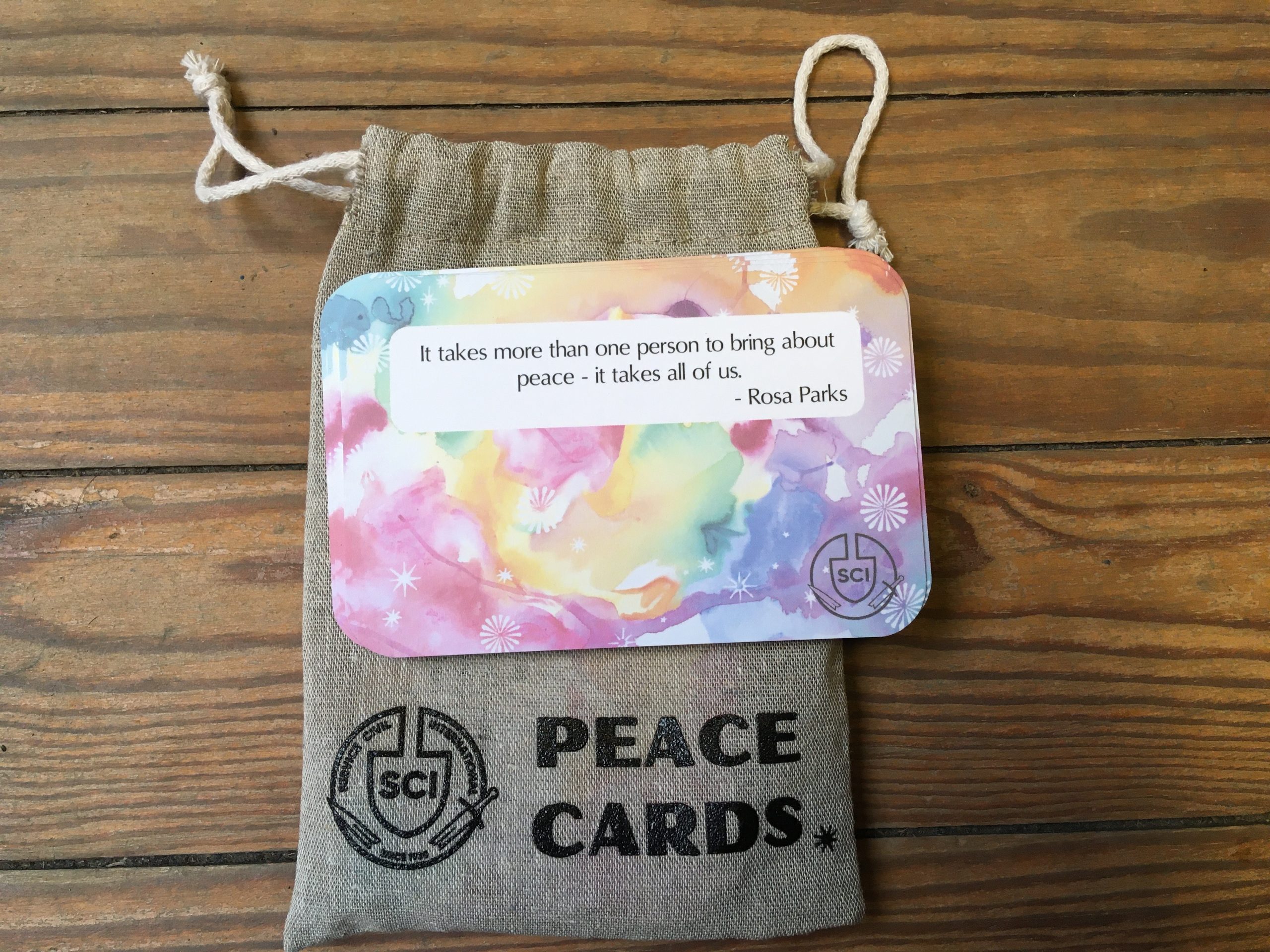 Topics: Education and Peace
Project: From Dreams to Actions
Year of publication: 2021
Supported by: Erasmus + and Europe for Citizens programmes of the European Union. Council of Europe through the European Youth Foundation.
Resource type: Facilitation cards

The SCI Peace Cards are a tool to spark a discussion on peace, non-violence, and activism. Each set contains 56 cards with quotes connected to the above topics, and 4 additional cards with instructions and further information on SCI and the "From Dreams to Actions" project.
What are SCI Peace Cards?
The Peace Cards are a tool to spark discussion on the topics of peace, nonviolence, and activism. The Cards were created in a collaborative process, with contributors from all across the world proposing their favourite quotes, and global voting which helped us to make the hard choice and determine the 56 quotes that were eventually printed! The quote authors are persons from all walks of life, and we ensured a diverse configuration of backgrounds.
View the cards in a Padlet gallery.
Peace Cards creators and project team: Gośka Tur, Hasna El Hiyani, and Natalie Jivkova
Artwork & graphic design by Natalia Bystrianyk. For more artwork visit Natalia's website at talby.art.
Copyright: The Peace Cards are published under Creative Commons CC BY-NC-ND 4.0 license
Printed cards have the size of 12×8 cm, they have rounded edges, and each set is packed in a cotton bag with a string – easy to carry to your next workshop, meeting, or workcamp!
Materials: The printed version of the Peace Cards was created respecting the environment, using 100% recycled cotton and 100% recycled Nautilus paper (FSC Recycled and EU Ecolabel certificates).
Who are the Cards intended for?
The Peace Cards are for everyone – both those who are interested in peace and those who are not (yet)! In particular, this set can support trainers, facilitators, youth workers, workcamp coordinators, psychologists, and educators who look for a creative tool to discuss the issues of peace, war, nonviolence, and activism with diverse groups. The Cards are also a great tool to introduce the above topics to families, groups of friends, and other informal circles!
Notes on the quotes
You will soon notice that some quotes you can easily agree with, others might contradict your opinion or even clash with your values and beliefs. There is no right and wrong opinion! We aim to provoke a dialogue on peace and nonviolence that will bring a better understanding of each other's point of view. We believe that once we are more open to speaking about peace, this will make us more reflective and confident in bringing peace out on all levels in our lives and the world.
How to use the Peace Cards?
There are numerous ways to benefit from the Peace Cards. Below you will find a few examples to help you kick off their usage:
Individually Think of a recent situation in life and pick up a card that resonates with this situation. What can you learn from it?
In a pair Let's put peace into practice! Each of you picks a quote that encourages you to do one little thing for peace today. What is it? Share and inspire!
In a small group Pick a random card and discuss it in the group. Do you agree with the quote – or not? Why?
In a big group Display all the cards on the table/floor and ask participants to choose a card that they find the closest to their understanding of what peace is. Share!
And of course, be creative! Find your own way that is the most appropriate for you, your group, the needs, and the settings! Good luck! Here you can play an interactive game with them:
SCI Peace Cards
Find more of our publications