23 June, 2021
Call for participants: Seminar on Volunteering Projects Management
Apply!
After the successful implementation of the Volunteers Managеment training earlier this year, CVS Bulgaria is organising a Volunteering Projects Management seminar and is looking for participants!
The call is open for participants from Austria, Bulgaria, Czech Republic, Estonia, Germany, Hungary, Italy, North Macedonia, Poland, Romania, Slovakia, Spain and Turkey. The seminar is also open for applicants from all EU countries and Serbia as well.
When and where
15 – 21 July 2021
Dryanovo, near Veliko Tarnovo, Bulgaria
More information
Do you want more information about the objectives of the seminar, the participants profile, the logistics and the application procedure?
How to apply
apply by 30 June at the link in the call!
If you have any questions, you can reach the team at trainings@cvs-bg.org.
SCI France is organising many workcamps this summer, go renovate the chapel of Saint-Jean with them!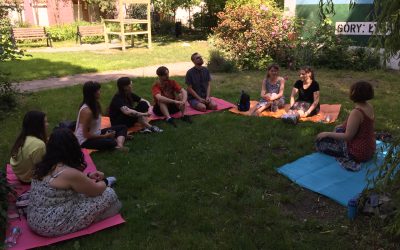 In June, SCI Poland completed two long-term educational initiatives: the School of Solutions Journalism and the School of Climate Justice. Both of them consisted of a series of workshops organised for people who want to work for social justice — either through journalism or climate activism.
SCI Madrid hosted a DETOX YOUR PROJECT seminar about Reacting to Toxic Masculinity in Youth & Volunteering Projects that took place at the end of May in Madrid, Spain.