16 January, 2023
Let us introduce you to our new International Coordinator!
SCI IS
My name is Inge Saris and I am the new International Coordinator at the International Secretariat of SCI. I was born in Hasselt, Belgium many moons ago. The last 22 years I have lived overseas, mainly in Australia but also the UK and USA. In November 2022 I returned to Belgium and I now live in Antwerp. I look forward to this new challenge and hope that I work together with other SCI members productively in furthering the vision of SCI.
I have master degrees in Organisational Psychology and in Criminology and a Postgraduate Diploma in Gender, Sexuality and Human Rights. For the majority of my work life I have worked around diversity and inclusion issues with a main focus on gender, sexuality, disability and mental health and Aboriginal and Torres Strait Islander people. I have experience in management, policy writing, networking and project development and implementation. During my 14 years in Australia I was introduced to the barriers that Aboriginal and Torres Strait Islander people face as a result of colonisation. It opened my eyes to the intergenerational trauma caused by displacement and oppression. I hope that I was able to do my part in lowering barriers and supporting Aboriginal and Torres Strait Islander people to take their rightful place in society.
I feel strongly about human rights and that all people are equal and deserve respect. I was part of Amnesty International Australia (AIA), for a few years as a Branch President and later as part of the National Assessment Committee in charge of recruiting new board members. During this time I worked as a volunteer, chairing branch meetings, organising and attending events and was part of the governance of AIA, participating in AGMs and working parties.
I feel privileged to be the new International Coordinator of SCI and I am looking forward to getting to know volunteers, activists and staff members of SCI around the world and working with them to make this a better world where people feel valued, empowered and able to contribute to the wellbeing of their community and our planet.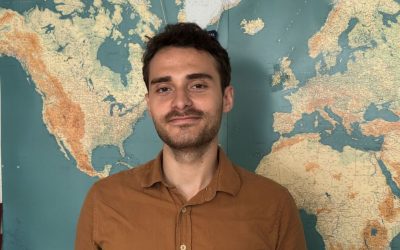 Albanoi will be joining the IS offices for a year here in Antwerp, helping out with communication. Hi everyone! My name is Albanoi and I am the new Communication Volunteer for SCI IS. It feels weird even typing that because when I applied, I did so on a whim and did not think much of it, only to find myself in Antwerp two months later, in an unknown city, alone for the first time. It is exciting...