FUNding Peace:
the power grid for your project
The idea of this project was to connect young people in an open and supportive platform, empowering them to exchange thoughts, ideas and experiences. After being a part of the training and activities, they are able to initiate quality projects that are in line with and contributing to SCI's vision, mission and values.
Objectives:
Provide young people and partner organisations with knowledge, inspiration and skills needed to initiate cross-cultural (peace) projects;
Cultivate young people's capacity to integrate key transversal topics in their projects, such as climate justice, antidiscrimination, inclusiveness and intersectionality;
Lay foundations of an open and supportive platform that helps young people become active citizens;
"FUNding peace: the power grid for your project" consists of three elements: a training course, an online course with different modules and follow-up actions.
The 16 partner organisations involved in the project are located in Albania, Austria, Belgium, France, Germany, Ireland, Italy, Hungary, Bulgaria, Poland, Netherlands, Serbia, Switzerland, Romania, Spain, Kosovo.
26 June – 2 July 2022
The training course was held in De Hoge Rielen, Belgium with the participation of volunteers and youth workers. It was an important moment for them to come together, connect with their European peers and SCI, map important topics and needs, share visions and work on participants' projects.
The aim of this training was to:
Strengthen the confidence and group bonding through games;
Increase the understanding of sustainability, peace, intersectionality, gender;
Increase the understanding of the importance to design projects around existing needs;
Have a greater ability to identify needs inside of a community and efficient ways to finding partners to help addressing those needs.
From June 2022
Before the training course, we prepared online modules on transversal topics, so that young people were able to build/expand their common understanding of how to organise projects in a more sustainable and inclusive way. This allowed us to go deeper into these topics during the training course itself.
From September 2022
After the training course, we stayed connected with the group by facilitating additional opportunities to meet up online and went deeper into project topics. These online sessions were tailored to the participants' needs.
This online course 'FUNding Peace' was created throughout the project to share what was learnt during the training and the exchanges between participants, trainers, experts.
This is a space for young people and partner organisations to connect through, to interact, to grow, and to exchange best practises.
If you want to create. anon-formal education project, it is MADE FOR YOU !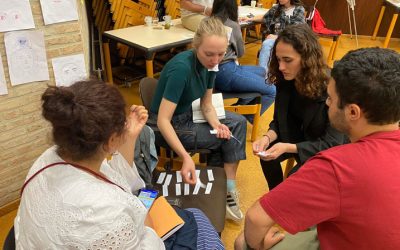 From 26th of June to 2nd of July in Belgium, 22 young people from 11 different countries participated in the FUNding Peace training course, part of FUNding Peace Project. The idea of this project was to connect young people in an open and supportive platform empowering them to exchange thoughts, ideas and experiences, connect with their European peers and SCI, map important topics and needs, share visions and work on their own project ideas.
read more
Cristina is a trainer and social educator with almost a decade of working and volunteering experience on a local, national and international level in organisations such as AIESEC, TEDx Vienna, Erasmus + Network and SCI. Working towards the achieving of the SDGs AND the 2030 Agenda, she is constantly looking for the next challenge and for opportunities to grow. Cristina has been involved in SCI in the past year and is interested in topics such as gender, sustainability and intersectionality.
Simon* Jakob is an experienced trainer with a passion for climate justice and gender perspective. They are an active member of SCI's climate team and has been currently involved in multiple projects focusing on climate – M.O.V.E – Mobility Of Volunteering Eco-friendly! or Climate beyond classism. Moreover, they were a trainer of the above mentioned training of trainers and have experience with writing projects from European funders.
Alba is a trainer and facilitator with experience in working and volunteering with youngsters and Erasmus+ projects, as well as writing and applying for funds. She is active in SCI since 2018, as a member of the Pool of Trainers of SCI Catalunya, developing Tranings for activists and for trainers on the field of peace education, as well as involved in projects such as the Youth Green Deal or Grassroots for Change. She is interested in Human Rights, peace education, gender, interculturality and intersectionality.
Hasna supported the training course content, its quality and impact on the learning process of participants. She has been active in SCI since 2018 where she participated and coordinated several projects. She has a strong interest towards ecology, feminism, gender, sexuality, anti-racism, intersectionality and decolonization.
Anaïck supported the team to integrate the online modules into the learning platform. She has been involved with SCI since September 2021 by working as a volunteer for the International Secretariat. She was part of the Climate team and of the M.O.V.E. project organised by SCI Germany and SCI Austria. Anaïck is passionate on working in the fields of climate change, gender issues, and access to education for all.
Erilda ensured the smooth communication with participants, supported logistics and overall visibility for the project (website, promotion, etc). She has been engaged with PVN Albania as a volunteer for three years and has worked at the office of International Secretariat as a Project and Campaign Volunteer. Erilda has been involved in projects focusing on environment, inclusion and gender based violence in the past.
Kerry is the Project Officer at SCI's International Secretariat. She has been active in SCI since 2018 and has been involved in several projects and part of the Gender Blenders Working Group. She managed the project's coordination and administration, and ensured the progress of the online modules.
Thomas Schallhart was the team's expert. He shared his expertise with developing online modules with the team and helped design their content together with Simon* and Cristina. Working as a trainer for the last 7 years, Thomas has developed expertise in many topics that are covered by this project, namely fundraising, training of trainers, intersectionality, gender perspective, climate, campaigning, etc. Along his involvement in the online modules, Thomas shared his expertise in the follow up online sessions. 
FUNding peace project is supported by the Council of Europe through the European Youth Foundation.