23 September, 2021
Virtual Human Library in Malaysia
Sharing inspiration for International Day of Peace
In conjunction with International Day of Peace that takes place on 21st September annually, this year SCI Malaysia has organized a virtual Human Library with the aim of promoting conversations on volunteerism to better our understanding of diversity to help create more inclusive communities across cultural, religious, social, ethnic differences. The topics for this Human Library is Volunteering for Peace where our human 'books' shared their stories on volunteering initiatives, projects in their own country.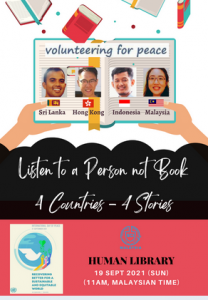 We were very happy to have human 'books' in sharing their stories and engage conversations with our 28 'readers'. Most of our 'readers' do not experience in human library and we hope this marks the beginning of more conversations with people that are different from us to listen to their stories, to have open communications and try to understand each other. 
SCI Malaysia would like to thank all our human 'books' and 'readers' from Hong Kong, Sri Lanka, Indonesia, Korea, Malaysia and Netherlands of different gender, ethnicity, and age in coming together for our Human Library event. 
The Youth Green Deal project has been initiated by the MIDI working group together with partners from the South Mediterranean area and aims to mobilize young people to act against climate change through eco-volunteering. Hugo from SCI France tells us about their visual storytelling training course.
Become a volunteer for BASIDA, an NGO that provides medical and psychosocial support to HIV-positive, drugs addicted people and others with special needs. The volunteer will participate in the everyday life of the Centre, socializing with its community. From 8 to 21 August 2022 in Aranjuez, Spain. Apply soon!
In July, SCI Poland began their workcamp season, welcoming international volunteers to three camps: Trzcianka, Wydminy, and Lublin. Read more to know what they were about!