23 September, 2021
Virtual Human Library in Malaysia
Sharing inspiration for International Day of Peace
In conjunction with International Day of Peace that takes place on 21st September annually, this year SCI Malaysia has organized a virtual Human Library with the aim of promoting conversations on volunteerism to better our understanding of diversity to help create more inclusive communities across cultural, religious, social, ethnic differences. The topics for this Human Library is Volunteering for Peace where our human 'books' shared their stories on volunteering initiatives, projects in their own country.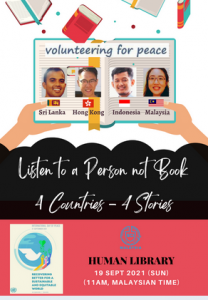 We were very happy to have human 'books' in sharing their stories and engage conversations with our 28 'readers'. Most of our 'readers' do not experience in human library and we hope this marks the beginning of more conversations with people that are different from us to listen to their stories, to have open communications and try to understand each other. 
SCI Malaysia would like to thank all our human 'books' and 'readers' from Hong Kong, Sri Lanka, Indonesia, Korea, Malaysia and Netherlands of different gender, ethnicity, and age in coming together for our Human Library event. 
Focused on the themes of peace and reconciliation, this fellowship has been sponsored by IVP co-founder, Chris Dunstan, in honour of his late mother, Barbara Dunstan
Tomorrow marks one year since the full-scale military aggression against Ukraine by Russia. We want to reiterate our message in support of peace, standing in solidarity with the people of Ukraine as well as peace movements and peace activists. No to war in Ukraine, no to war anywhere! We invite you to stand up against the war in Ukraine and encourage you to join your local peace protest or activity or to organise one yourself.
SCI India – Maharashtra State Group is organising an online discussion on the occasion of International Women's Day with the theme "Women's Empowerment". ? 8 March 2023 15:30 CET ? Zoom