9 November, 2021
What is peace to you?
A workshop with SCI's Peace Cards
Peace is a complex and multidimensional topic and talking about it is not always easy. Join us on the journey to make it more accessible! We have recently developed a new tool for peace education – Peace Cards. Created as a part of online training course From Dreams to Actions they are available: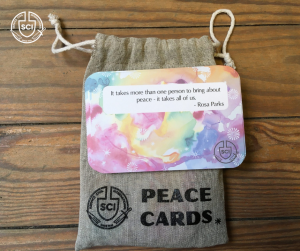 It is a set of 60 cards, with 56 quotes from inspiring figures from all over the world. They revolve around the topic of peace, non-violence and activism, with the aim to spark discussion and facilitate sharing of ideas, beliefs and values. Peace Cards were created to make the idea of peace more tangible and to provide new ways of understanding this topic. 
How can Peace Cards be put into practice? 
Peace Cards can be used as an educational tool individually, in a pair or during workshops for smaller and bigger groups alike. 
Our volunteer, Erilda, has already coordinated a small session using this tool!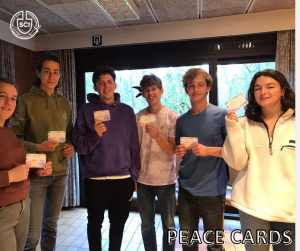 During the open space session in the On-Arrival training for my European Solidarity Corps volunteering in Belgium, I had the opportunity to implement a small workshop with other volunteers through peace card introduction. We took some time to reflect with some peaceful music in the background and we had to write down one word which for us represents peace. Moreover, we shared our personal interpretations of peace and explained why we chose that word to describe it. This exercise helped us understand how does the concept of peace change from one person to another and how diverse and complex is to give a certain definition about it.

Connecting with our mind and body is also a good beginning of inner peace journey that's why we shared together some beautiful moments of silence, music and meditation. 

Erilda Kola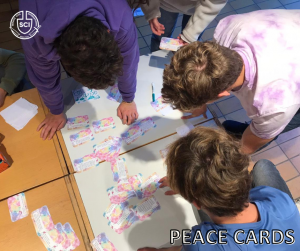 Sounds interesting? Peace Cards and the idea behind them will be put into practice during an International Volunteering Fair on December 5th – an online event organized to celebrate the International Volunteer Day.  Join us on December 5th on Gathertown and discover the topic of peace.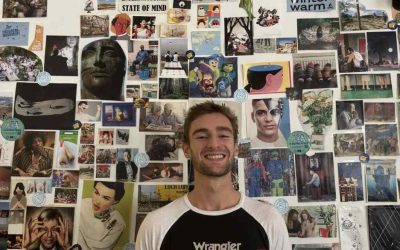 Léo arrived at our office of the International Secretariat here in Antwerp on the 15th of September and he will stay with us for one year. Hello everyone! My name is Léo, I am 23 years old and I come from Lisieux, Normandy, a city in France. I joined the International Secretary to take part in the organising of the International Committee Meeting. I will also be the first point of contact for...
The Summer Short Term Camp was held from 20 to 28 August 2023. Three participants reached the campsite one day before from Mankundu. The local friends arranged the food and accommodation at Bhagot Singh club and since there were no international volunteers or volunteers from out of state, the local unit Members and four members from the Hooghly district joined the camp. Ten volunteers regularly...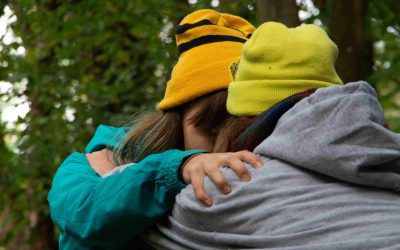 The training will be held from 6 to 15 November in Hollókő, Hungary. This program aims to help you become a better leader through the principles of self-awareness, resourcefulness and accountability.